Outsourcing in Healthcare Industry
Want to know in detail about the various Healthcare outsourcing services that we provide that can increase profitability? Contact us now, and we'll be delighted to assist you.
MedValue Paper Claims-to-EDI  Conversion Services
MedValue is the leading provider of Paper Claims to EDI Conversion services to Health Plans, TPAs, MSOs, Medicaid MCOs, Repricing Companies, IPAs and other Managed Care companies throughout United States.
We convert tens of thousands of CMS-1500, HCFA-1500, UB-04, UB-92 and a variety of Dental paper claims to HIPAA compliant ANSI 837-4010 EDI formats for our customers every day. Our customers enjoy the consistency and reliability that accrues to them by working with MedValue.
Simple and affordable, our service automates your front-end claims processing, cuts costs, eliminates the manual data entry and OCR verification, and improves accuracy of paper claims adjudication while at the same time improving turnaround time.  It additionally enhances productivity of your claims examiners by improving your Auto Adjudication rates, Reduced Pend Rates, and archiving paper claims and attachments images to our web-based Document Management System, for easy Search and Retrieval of claims and convenient access 24×7 from any computer.
Call us today at 1-877-528-1683 to see how TPAs, Health Plans, MSOs and Managed Care Entities have benefited by partnering with MedValue for solving some of the challenges as listed below:
Are you facing any of these challenges?
Shortage of motivated and reliable claims data entry staff
Rising employee wages and benefit costs
High volume of paper claims backlogs
High cost and low reliability  from your existing Paper claims vendor
Overburdened by paper claims because of increase of volume from Providers
Antiquated or inadequate technology platforms
You can derive these benefits by working with MedValue
Eliminate handling of Paper Claims
Cut Paper Claims Processing Costs by 40-60%, as well as convert fixed costs to variable costs
Archive, Search, and easily Retrieve all Paper Claims & Attachments through our web based Document Management System
Improve Auto Adjudication and Reduce Pend Rates
Improve HIPAA & CMS compliance for audit trails and paper claims tracking
Improve turnaround times, eliminate backlog and easily manage high volume peaks and fluctuations. 
You can count on us for consistency & reliability. MedValue's Paper Claims-to-EDI Conversion Services have been designed to specifically address these challenges described above. The custom solutions enable Claims Departments to eliminate paper and populate their Claims System with claims data without requiring any manual data entry.  MedValue's Paper Claims-to-EDI Conversion Services provide our clients' two key capabilities reliably and consistently on a daily basis:
1. Converts your paper CMS-1500, HCFA-1500, UB-04, UB-92 and Dental claims and stores them electronically in our web-based Document Management System™ (DMS™) for easy Search and Retrieval at any time from any PC connected to the Internet.
2. Converts your paper claims into a standard EDI stream (ANSI 837-4010), similar to the ones received by your claims department for electronic claims.
Our People & Processes are our Differentiation
Our process is easy to implement. On a daily basis, your staff scans the paper claims along with attachments to our Secure FTP Servers. Within 1-2 days, we process and provide you with the EDI 837-4010 output for your staff to load into your Claims Adjudication System such as FACETS, IDX, EZ-CAP, DIAMOND, etc. We then store indexed images of your paper claims and attachments on-line on our web based DMS, and upload the archived data to Secure FTP. We also provide you a Management Information Summary on our web based Workflow Management System™ (WMS™), and via daily email status reports so that every claim sent to us and processed by us is accounted for.
Low Cost & High Value
Our services are very affordable and are a variable cost to you. You do not need any upfront expenses on Hardware, Software or IT staff at your end.
MedValue clients are saving between 40%-60% off their fully loaded paper claims processing cost and enjoying over 99.5% accuracy by using MedValue's Paper Claims-to-EDI Conversion Services.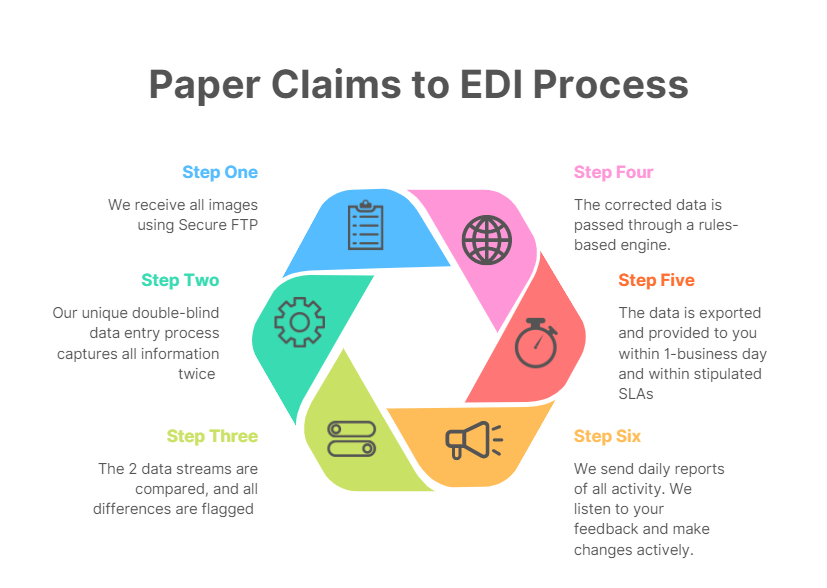 Highlights
Savings of over 40% compared to your existing front end claim processing costs
Improved Auto Adjudication and Reduced Pend Rates by verification of data against your Provider and Member Databases
Enhanced accuracy by validations with AMA® CPT/ICD Code databases, Common Industry Business Rules, and your custom business rules, business practices and policies.
Complete Mailroom support Includes pickup of paper claims from P.O. Boxes and scanning services nationwide.
Simple Variable Cost model – No upfront hardware or software capital investments required
1-2 day EDI turnaround for all types of Paper claims
Leverages MedValue Claim Repair Technology to provide far superior accuracy levels than other vendors.
Easy Search and Retrieval of all claims and attachments using our web-based DMS.
Full support of NPI as well as latest CMS-1500, UB-04 and all Dental forms.
Repricing Data Capture from Repricing sheets attached to the claim.
Experience with most Claims Adjudication Systems and their Interfaces such as Facets, IDX, Diamond, EZ-CAP, In-house and more.
Rapid Implementation timelines – Most implementations and transitions completed within 30 days.