Legal Process Outsourcing
MedValue has indepth experience in processing Case Documents, Pleadings, Digitizing Case Files, and more.
Law firms are under increasing pressure to cut costs and improve profitability in light of rising inflation and labor costs. MedValue's Legal Process Outsourcing services assists small and medium law-firms (Less than 50 attorneys) to save 40-60% costs as compared to inhouse costs.

Roles MedValue can provide to you:


Legal Documents Processed
Digital Records Processed
Offshoring Legal Services
The increasing costs for law firms have led to the exploration of avenues to save costs and improve profitability.
An outsourced litigation service provider, MedValue offers a full suite of custom litigation support from highly skilled and trained professionals. It allows the attorneys' to concentrate their efforts on strategy, case building and drafting of pleadings, where as MedValue can provide Paralegal support, billing support, case documentation management and many other services..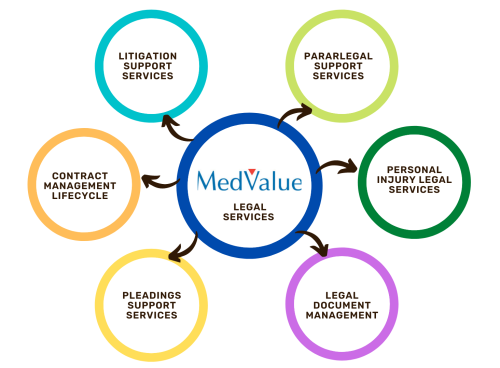 You can realize the following benefits:

Flexibility
The best reward of outsourcing to us is to retain value added activities in-house, thereby allowing you to focus more on revenue generation, while we take care of all of your backend needs.

Cost-Effective 
You can reduce the need to hire in-house paralegals, data entry staff, or support/billing staff. The decision of offshoring benefits you with high convenience that comes in the form of a ready-to-deployable team of skilled professionals "on-demand" without any fixed, hiring or office-space costs, and saving 40-60%. Most of our law-firm clients are able to bill their clients for our services, thereby gaining our benefits at little or no out-of-pocket cost.

Experienced Team
Our team has requisite experience of handling all backoffice needs of a typical law firm. 

Fast Turnaround
We typically can go live within 3-5 days once you decide to retain our services.  
How We are One of The Best Outsourcing Company?
Hiring a trusted and reliable offshoring company is the key to exercising the maximum benefits of offshoring legal services. We coordinate with our clients to identify their needs and provide a dedicated team to deliver exceptionally tailored services.
Our key features