Outsource Data Management Services
MedValue's unique Data Management process allows you to save 40%-60% compared to your in-house costs.
MedValue has been providing a wide range of Data Entry and Data Management services including Data Conversion, Data Processing, Business Analytics, Data Transformation and more for the past 18 years. We help you accelerate your business growth while saving 40-60%, with 100% secure and confidential Data Processing Services.
Fundamentals of Data Management
When you outsource to us, we undertake the responsibility to managing our staff so that they can provide you high quality services for all your data-capture and migration needs. We are HIPAA and PCI Compliant.
Our teams works under these 5 principles:
Consistency
High Reliability & Availability
High Accuracy
Top notch security
Highest levels of cost savings to your business.

Combining these 5 critical principles MedValue's processes and methodologies benefits our clients in saving 40-60% and allows them to focus on other core revenue generating processes of their business.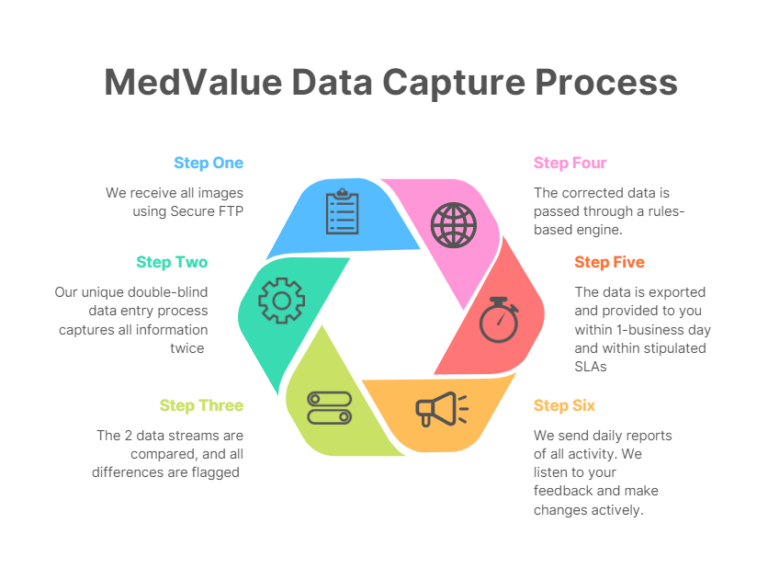 Why choose MedValue for Outsourcing services?
High Quality Data Management teams are fundamental to success for every business. A trusted data set allows companies to make better decisions for the growth of the company. It minimizes friction between different departments, and allows our clients to quickly respond to market changes.
Cloud computing and data applications have enabled easy access to data from any corner of the world. And these technological advancements hardly leave a difference between in-house and outsourced data management operations.
With MedValue's in-depth experience of 18+ years, reference accounts in most of the industries and business processes, and an unrelenting focus on quality and service delivery, we combine our well trained staff to solve even the most complex data outsourcing issues.