Outsourced Financial Services
Loan Processing, A/P and A/R support, Mortgage processing and more are easy to outsource to MedValue.
Daily Loan Application Capacity
Daily Mortgage Processing Capacity
MedValue provides several services to Financial and Industry sectors:
Processing of Incoming Loan Applications
The loan processing cycle starts when your ISOs, or partners start sending you small business loan applications for funding. Our team will monitor your email inbox for all incoming paperwork and documentation. Once the end customer, ISO or business partner submits the initial application, we will ensure that all paperwork necessary is available to start the review and underwriting process. We will communicate on your behalf with the ISO Partner to ensure that paperwork is available and then we can start the processing. 
Here is the typical process flow that we undertake for clients needing our services:
Loan Pre-Underwriting Support
Our team does through Review of all Loan Documents, digitization of bank statements and various accompanying paperwork. Our team will communicate with your ISOs or end-user applicants (where necessary) to ensure all documentation is provided prior to beginning the process.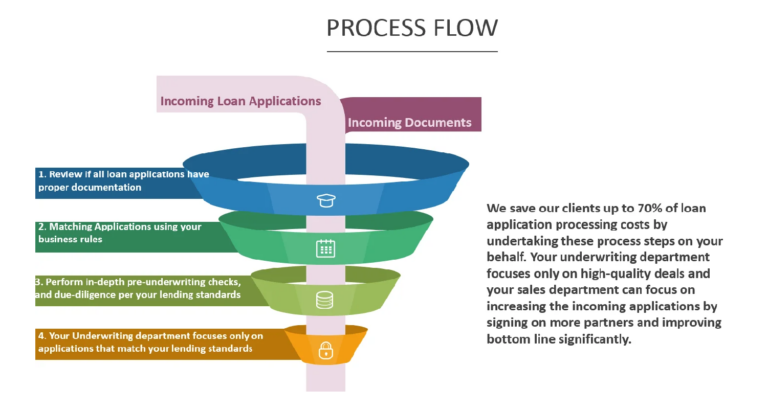 Here's the typical Due-Diligence Process Flow:
A/P and Invoice Processing 
MedValue team processes incoming Invoices. Our team receives incoming Invoices and enters into your Invoice processing system. We can additional verify incoming invoices with services rendered, and can request additional documents from your vendors. 
Billing Documents
MedValue team processes incoming billing documents and attachments. Our team receives incoming documents and enters into your processing system. We can additional verify incoming documents using your business rules and ensure that all guidelines are followed accurately, and can request additional documents from your third parties as necessary.

Collection Support
MedValue team can review your delinquent accounts and can attempt to collect from your vendors or clients at a low monthly fee. We do not charge % of collections, so this process is far economical as compared to outside collection agencies. Only those accounts that cannot be easily collected can be transferred to the third party collection agency for optimal results.  
Mortgage Processing
We provide complete mortgage processing services which share many components of our Loan Processing Service, but have additional documentation and due-diligence requirements. Our team verifies that all documents are provided by the borrower are complete and accurate and then works with your lender to provide complete file for processing and funding of the loan.